2024
Bar Summit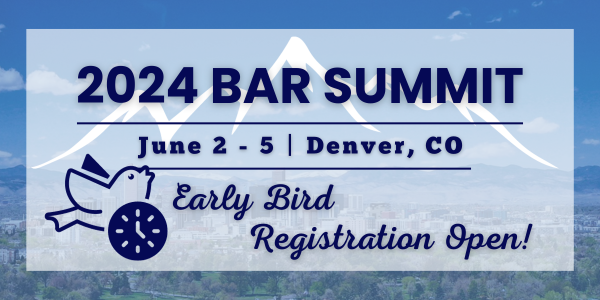 Early Bird Registration Open!
Don't miss your chance to secure a spot at this enriching event, and save when you register early!
Get ready to shake things up at the most anticipated event in the bartending world! In it's 76th year, we are introducing our national conference as the Bar Summit, a dynamic and immersive gathering designed for industry professionals and cocktail enthusiasts alike.
Set against the vibrant backdrop of Denver, Colorado, this event will take place at the Hyatt Regency, nestled within the Colorado Convention Center. Dive into a world of learning, networking, and all things bartending.
When: June 2nd - 5th, 2024
Time: Starts at 2:00 PM (MT) on June 2nd, 2024, ends at 12:00 PM (MT) on June 5th, 2024
Where: Hyatt Regency Denver at Colorado Convention Center
Address: 650 15th Street, Denver, CO 80202
Sponsor

Opportunities
Interested in having your brand featured at this event? For more information about sponsorships, please click here to schedule a call with Sheila Rosario, Director of Development.