USBG Community Affiliation Program
Thank you for your interest in organizing your community to join the USBG!
We are proud to represent members in more than 50 cities, with more cities (like yours) working to join each day!
Establishing an affiliated USBG community is like starting a new business. The strength of the Guild, as a whole, depends on each community creating and sustaining an active, growing presence locally. Programs, activities, and services to members at the local level are critical to the growth of the community and in turn, the Guild nationally.
Organizing a USBG Affiliated Community and founding a Chapter of the USBG will require a number of steps and communities will evolve through the four phases of the Community Affiliation Program at different paces. Some communities may even find themselves satisfied as Affiliated Communities for many years! The conversion to Observing Chapter then Chartered Chapter is optional.

The entire process requires a multi-year commitment, but when complete, your community will be the proud stewards of a thriving USBG Chapter with the tools to impact your local hospitality community in significant, meaningful ways.
We sincerely appreciate your support of the USBG and wish you the best in organizing your community. We are excited to guide you through the process of taking the first steps toward creating a strong local community of dedicated beverage and hospitality professionals passionate about the advancement of our trade. We are here to help you each step of the way, so please reach out to us! Your success makes us a stronger Guild!
Are you ready? Your opportunity to make significant contributions to your community through the USBG begins NOW!
phases
No
Phase 1 - Organizing
May last 3-12 months
Qualifications
A can-do attitude, collaborative leadership style, and a long-term commitment to both USBG and your local bartending community!
Summary of Organizing

Phase 2 – Affiliation
Summary of Affiliation Phase

Comparison of an USBG Affiliated Community to USBG Chapter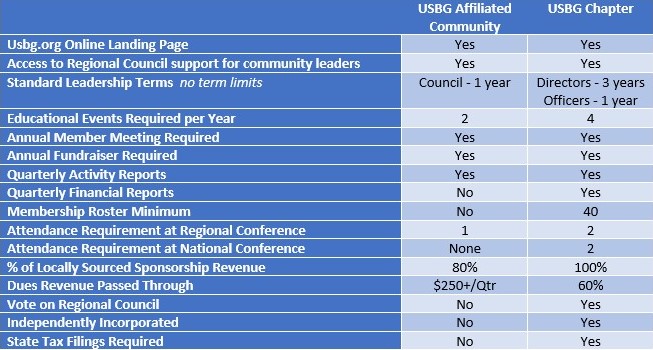 Phase 3 – Observing Chapter
Qualifications
Once an Affiliated Community has accomplished the Observing Chapter Requirements, the Leadership Council may apply to begin the Observing Chapter Phase. During the Observing Chapter Phase, the Affiliated Community will be issued a temporary Observing Chapter Charter. Rights and responsibilities of the group are similar to the Affiliation Phase but allows for the appointment of interim Officers to conduct the business of the Observing Chapter.
Phase 4 – Chartered
Objectives
Recruit and orient members to the USBG Mission, Vision, and Core Values
Engage current and potential members in educational and community events
Develop and maintain high-integrity relationships with community stakeholders, hospitality employers, and sponsors
Foster a healthy working environment and culture of leadership among Chapter volunteers
Leave your Chapter and community better than you found them
usbg_blue
#086E8D
#1097C0
#14355A
#FFFFFF
#FFFFFF
#FFFFFF
No
If you have any questions or need any help, please reach out to Laurie Costa by selecting "I have a general membership question" from the drop down menu on our Contact Us form.