World Cocktail Championship
Rome, Italy
The 2023 IBA World Cocktail Champion is the biggest reunion of the World's greatest Cocktail and Flair Bartenders! Incorporating all 64 countries of the IBA, the WCC will be a battle of the best. Cocktails will be flowing, and the skills and entertainment will be absolutely incredible!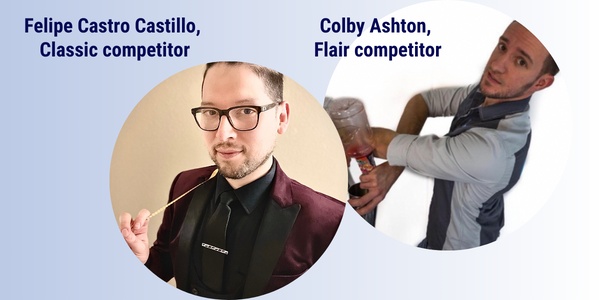 Italy is the hosting country this year and the competition will be held in the magnificent city of Rome led by the incredible Associazione Italiana Barmen e Sostenitori. After National competitions were held in each of the 64 IBA countries, the finalists were selected to move on to the WCC to compete for the title of next IBA World Cocktail Champion.
Please help us celebrate our Flair and Classic bartenders moving on to compete in Italy representing Team USA! We wish them the best of luck in Italy November 28 - December 2.
Shake it Up: USBG National Cocktail Competition IBA Qualifier
Be part of history in the making as the USBG National Cocktail Competition, "Shake it Up" unfolds. An opportunity for all USBG Bartenders, this competition serves as the IBA Qualifier, identifying our champions to represent the USA in the global spotlight.
Click Here to learn more about Shake it Up!
The Quest for Excellence: Your Journey to Italy and Beyond
Our highest-scoring contender will be crowned the USBG National Champion, earning the honor to compete in the Classic Division at the 2023 World Cocktail Championship in Rome, Italy. Meanwhile, our Runner-Up will embark on a journey to the Pan-American Cocktail Championship in the Dominican Republic, carrying the torch of our expertise.
Enter the Arena: Application Details
Phase I: Prepare to shine as you craft and curate your masterpiece. Over eight weeks, submit your recipe and a video showcasing your cocktail preparation and inspiration story. We encourage diversity and representation from all chapters, ensuring a fair and vibrant selection.
Committee Review: After the deadline, our expert panel will meticulously review the video entries. The Top 20 Competitors will be selected based on technical proficiency, proceeding to have their cocktail recipe recreated and evaluated for the Tasting score. The overall champion and runner-up will emerge from the fusion of Technical and Tasting scores.