No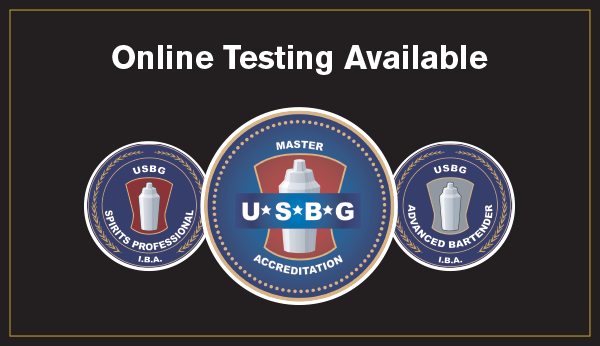 We're happy to announce that the Spirits Professional Exam and Advanced Bartender Exam are now available to take online. To purchase the exam, please click on the "SHOP" link above the main navigation bar on usbg.org.
Once you are on the Online Page, scroll down and select either Spirits Professional Exam or Advanced Bartender Exam. The fee for either exam is $150 for members and $300 for non-members. Once you have paid for the exam, you will receive an email containing a link to take the exam. You will have five (5) days from purchase to take the exam before the link expires.
SPIRITS PROFESSIONAL (SP)
The Spirits Professional Exam consists of 100 multiple choice/true-false questions and can be completed online or at a live testing event, with a time limit of 45 minutes. The Spirits Professional Exam tests your knowledge of Spirits 101 (history, geographic significance/requirements, distillation, raw materials, service, notable cocktails, etc.) info for all categories. You should also be familiar with IBA Presentation standards, general service standards concerning health & safety, cocktail recipe knowledge & history, and beer & wine basics. A passing score is 75% or higher. You must pass the Spirits Professional Exam before progressing to the Advanced Bartender Certification level. Prerequisite: None.
Upon completing the exam, you will receive your score immediately.
If you received a passing score, your certificate and pin will be mailed to you. A Spirits Professional Badge will be added to your membership profile. You will then be able to add the SP designation after your name.
If you did not receive a passing score, a code will be emailed to you to provide a discount on retaking the Spirits Professional Exam. The Retest Fee is $95.
ADVANCED BARTENDER (AB)
The Advanced Bartender Certification consists of both a Written Exam and a Practical Exam. The written portion is 100 multiple choice/true-false questions that can be completed online or at a live testing event, with a time limit of 45 minutes. A score of 75% or higher is required to pass the Written Exam. The Practical must be completed at a live testing event and consists of 4 modules that evaluate Cocktail and Spirits Tasting, Creativity, IBA Presentation, Efficiency & Technique, and Bar Management & Guest Service. All modules must be passed to pass the Practical Exam. Both the Written and Practical Exams must be passed to earn the Advanced Bartender Certification. Prerequisite: Must have passed the SP Exam to register for either portion of the AB Exam.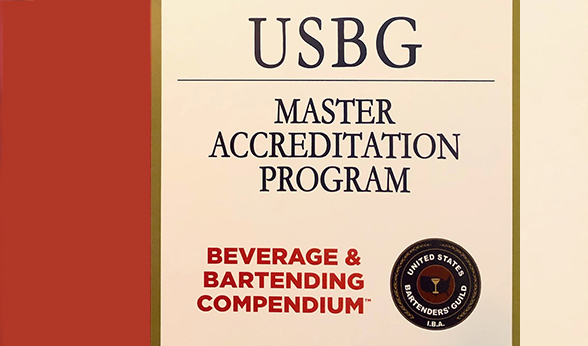 The USBG Master Accreditation Program Beverage & Bartending Compendium is also available through the online store. This guide will help you prepare for both the Spirits Professional and Advanced Bartender Exams.
If you have any questions, please send an email to masteraccreditation@usbg.org.